Atmospheric Physics; Air Pollution Monitoring and Analysis Using Purple Air Data
Keywords:
Particulate Matters, PurpleAir data, Air Pollution, Pollutant, Concentration.
Abstract
Air pollution has become one of the agents that leads to the cause of life-threatening diseases in our contemporary world.  Among the major air pollutants is the Particulate Matters PM2.5 and PM10.0. Long-time exposure to fine particles PM2.5 and PM10.0 in the environment has been linked to serious respiratory and cardiovascular diseases. The purpose of this research is to find the concentration of PM in some selected areas in Nigeria (Africa) namely; Lagos, Rivers and Abuja using Purpleair real time data for 12 weeks duration from 1st November 2021 to 31st January 2022. Findings have shown that among the study areas, Port Harcourt has the highest concentration of Particulate Matters followed by Abuja with a 12-weekly average PM2.5_CF1, PM10.0_CF1 and PM2.5_ATM to be 87.80 µg/m3, 101.76 µg/m3 and 63.15 µg/m3 respectively while Abuja has an average PM2.5_CF1, PM10.0_CF1 and PM2.5_ATM values of 70.51 µg/m3, 86.21 µg/m3 and 52.07 µg/m3 respectively. It was also found that the relationship between PM2.5 and PM10.0 showed a positive correlation with R = 0.99 indicating strong linear relationship.
R. K. Krishna & B. Gufran, "Influence of meterrology on particulate matter (PM) and vise-versa over two Indian metropolian cities", Open Journal of Air Pollution (2018) 244.
M. W. Nathaniel & D. Xiaoli , "Air quality levels and health risk assessment of particulate matters in Abuja municipal", Atmosphere 11 (2020) 817.
R. G. Barry & J. C. Richard, Atmosphere, Weather and Climate, Routledge , New York (2000).
A. A. Alani , O. O. Ayejuyo, O. E. Akinrinade, G. O. Badmus, C. J. Festus, B. A. Ogunnaike & B. I. Alo, "The level of PM2.5 and the elemnetal compositions of some potential receptor locations in Nigeria", Air Quality, Atmosphere & Health (2019).
J. Wang & S. Ogawa, "Effects of meteorolgical conditions on PM2.5 concentration in Nagasaki, Japan", Int. J. Environ. Res. 2 (2015) 9089.
K. A. Miller, D. S. Siscovick, L. Sheppard, K. Shepherd, J. H. Sullivan, G. L. Anderson & J. D. Kaufman, "Long term exposure to air pollution and incidence of cardiovascular events in women", N Engl J Med. (2007) 447.
C. Bingheng & K. Haidong, "Air pollution and population health: a global challange", Environmental Health and Preventive Medicine (2008) 94.
Z. Javeria, J. Jongho, B. L. Seung & S. K. Jin, "Effects of particulate matter on human health, prevention, and imaging using PET or SPECT", Progress in Medical Physics (2018) 81.
A. M. Oladapo, B. Ndokiari & O. C. Charles, "Assessment of particulate matter - based air quality index in Port Harcourt Nigeria", Journal of Environmental Analytical Chemistry 4 (2017) 224.
O. A. Francis & A. A. Ifeoluwa, "Monitoring air quality in Nigeria: The case of CARNASRDA", Aerosol Science and Engineering 5 (2021) 478.
Z. Rasa, L.-V. Jesus & R. Yves, "Contrasted effects of relative humidity and precipitation on urban PM2.5 pollution in high elevation urban areas", Sustainability 10 (2018) 64.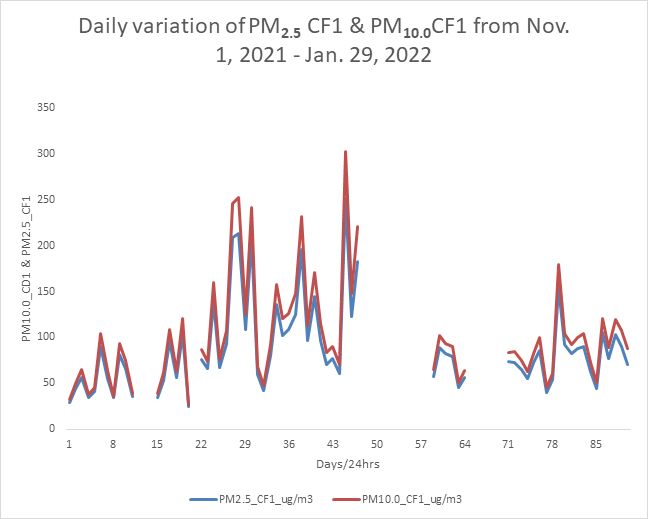 How to Cite
Lawal, H. A., & Mohammed, M. I. (2022). Atmospheric Physics; Air Pollution Monitoring and Analysis Using Purple Air Data. African Scientific Reports, 1(2), 123–132. https://doi.org/10.46481/asr.2022.1.2.42
Section
Original Research
Copyright & Licensing
Copyright (c) 2022 Hammed A. Lawal, Mukhtar I. Mohammed
This work is licensed under a Creative Commons Attribution 4.0 International License.
African Scientific Reports (ASR) is published under the Creative Commons Attribution 4.0 (CC BY-NC) license. This license was developed to facilitate open access, namely, it allows articles to be freely downloaded and to be re-used and re-distributed without restriction, as long as the original work is correctly cited. More specifically, anyone may copy, distribute or reuse these articles, create extracts, abstracts, and other revised versions, adaptations or derivative works of or from an article, mine the article even for commercial purposes, as long as they credit the author(s).